7. November 2022
UVV Driver Safety Instruction Online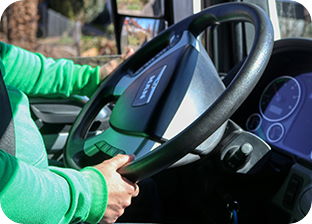 Professional drivers have an important task. To enable them to perform their work safely and reliably, they must receive instruction once a year.
Instruction is mandatory under the Motor Vehicle Service Act (KDG) and the Professional Driver Qualification Ordinance (BKrFQV). The aim of the instruction is to inform the drivers about general regulations for freight transport, social legal framework conditions, hazard perception, load safety, driving and rest times as well as other work-related duties. Driving and rest times are regulations that ensure the safety of all involved. Therefore, it is important that professional drivers adhere closely to these regulations. To ensure that professional drivers do so, they must receive regular instruction in driving and rest times.
However, driving and rest times are not the only regulations for professional drivers. Load securing is also an important regulation that must be strictly adhered to. To ensure that professional drivers also apply this regulation correctly, they must receive regular instruction in load securing. Professional drivers therefore have a lot to keep in mind and must receive regular instruction in a wide variety of areas. Another important task of professional drivers is to check everything carefully and handle it correctly during the departure inspection. This is especially important so that no unnecessary risks arise or even bad accidents happen.
Instruction in the use of the tachograph (digital tachograph) is also due regularly and must be carried out by a trained specialist. All truck instruction modules can also be booked individually. Proof of participation is provided by means of an entry in the professional driver qualification register (BQR).
Now is the perfect time to try DigiDuck online instruction modules. With our new professional driver online instruction, you can reach your employees exactly where they are. Thanks to our intuitive user interface and easy-to-follow learning content, your employees can quickly and easily acquire the skills they need to perform their jobs safely and effectively.
Try DigiDuck now and see for yourself! Now your employees have no excuse to miss instruction. With the Digi-Duck app, they can complete training anytime, anywhere. So make sure all your drivers download the app and receive the instruction – preferably in their native language!