14. November 2022
Fire protection in your company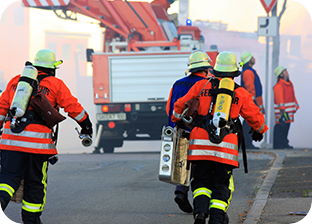 Fire safety training is mandatory under the German Occupational Health and Safety Act, DGUV regulations, and according to the technical rules for workplaces. And rightly so, because in an emergency, good fire safety instruction can save lives. But what exactly is fire safety training and how often does it have to be carried out? A fire safety briefing is a briefing that informs employees about the various aspects of fire safety. The aim of the instruction is to inform employees about the dangers of fire and smoke and the correct procedure to follow in the event of a fire.
The contents of the fire safety instruction
The training teaches participants everything they need to know about fire prevention, causes of fire and fire fighting. Fire safety regulations are explained in detail, and practical exercises are conducted on alarm and extinguishing systems. This ensures that all participants are well prepared for a possible fire incident.
The instruction also explains the different types of fire extinguishers and how to use them. There are foam, powder or water fire extinguishers; each has its own advantages and disadvantages. To choose the right extinguisher for the situation, it is important to become familiar with the different options.
Another important component of fire safety instruction is evacuation. When a fire breaks out, it is critical that people exit the building quickly and safely. To do so, however, they need to know where the emergency exits are and what to do in such an event. Many people are panicked in a burning building and do not know what to do. They often run around aimlessly or hide from the fire instead of looking for the emergency exit. This can lead to people dying in a burning building because they don't know how to do it properly. That's why it's so important to talk about the location of escape and rescue routes and the company emergency number as part of the fire safety training. Only if the escape routes and emergency exits are known can everyone get to safety in time in the event of a fire.
Likewise, persons who are responsible for fire protection in the company (fire protection officers) should introduce themselves to all employees during the fire protection instruction.
The frequency of the fire safety training depends on the operating conditions. In companies with a low fire risk, annual instruction is usually sufficient. In principle, every employee must receive fire safety instruction when they start work.
By providing this instruction to your employees, you meet the requirement of the Occupational Safety and Health Act and can protect yourself from accusations of having acted intentionally due to a lack of employee training. More importantly, regular staff training greatly minimizes the risk of fires occurring on the job. The more employees gain the necessary knowledge, the better they can contribute to fire prevention.