18. November 2022
Why every company must carry out first aid training!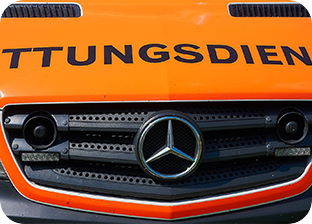 First aid instruction is a short training program that teaches the basics of first aid. It is about how to treat life-threatening injuries that may occur during an emergency. Many people think that they can't learn first aid because they don't have medical expertise. But that's a fallacy. Anyone can learn the basics of first aid and should.
First aid is an important part of workplace safety. Every employee should have the necessary knowledge and skills to help quickly and competently in the event of an accident or illness. First aid training should be conducted on a regular basis to keep employees up to date. The course of instruction can vary, depending on the focus.
Legal basis of the first aid instruction
The legal basis for first aid instruction comes from the Occupational Health and Safety Act §10 "First aid and other measures" and the DGUV (German Social Accident Insurance) Regulation 1, §4 "Instruction of insured persons". Both are binding for all companies in Germany.
In the German Criminal Code, failure to provide first aid is governed by § 323 C. This means that everyone is obliged to provide first aid. This means that, in principle, everyone is obliged to provide first aid or, if necessary, to instruct other persons to do so.
Instruction in first aid – contents and procedure
In first aid training, employees learn the most important rules and measures that can be applied in an emergency.
The contents include
– Anatomy and physiology of the human body
– emergency medicine
– Reanimation and resuscitation
– Bandages and synthetic dressings.
First aid training usually begins with a theoretical introduction to first aid and emergency preparedness. This covers the most important points so that employees know what is important in first aid. This is followed by practical exercises. This teaches employees how to react correctly and what to do if someone is injured or ill.
In the first aid instruction, the participants should learn, among other things, which symptoms indicate a heart attack and how they can best help. They should also learn how best to react if someone is injured and what to do to treat an epileptic seizure.
First aid training should be conducted on a regular basis. The ideal times to do this are at the beginning of the new work year or when a new production phase is started. All employees should also be made aware of this whenever possible when new employees are hired.
The first aid instruction is therefore a MUST for every company.
It not only helps the employees themselves, but also all the other people who work in the company or will work in the future.